If you have been in digital marketing for some time, you would know that the internet is full of marketing buzzwords. Had you been searching for quick ways to make your business grow, chances are you have come across the word "growth hacking".

Then it might have crossed your mind, but what the heck is growth hacking? Let's begin with a simple definition.

What is Growth Hacking?
Growth hacking (at times also known as growth marketing) is a marketing strategy that uses rapid experimentation across various channels and product development with the aim to create the most effective way to grow and scale a business.

There is no single path or method to it. What concludes growth hacking is the results and that is to create massive growth through small budgets in a small amount of time.
Growth hackers are not just looking for any growth, but the highest growth result with the use of light resources and cost-effective digital marketing tactics that will help grow and retain an active user base, sell products and gain exposure.

That's why the term "hacking" has been used in terms to represent shortcuts that will make the process easier. The aim is to produce the maximum results with minimum effort.

But to truly understand what is growth hacking and how it came about, we need to start at the very beginning.

How Growth Hacking Started
Meet Sean Ellis, the man who coined the term "growth hacking" after using it to ignite breakout growth successes for startups like DropBox, Eventbrite, and LogMeIn.

Sean Ellis was that one-man growth shop, having helped numbers of internet companies achieved extraordinary growth by setting up systems, processes, and mindsets that lead the companies to achieve IPO.

The problem came when he was hiring replacements for himself. Sean went through candidates that had marketing degrees and experience, but he felt they still lack something.

A traditional marketer has a very broad focus, and while their skill set is extremely valuable, but it is not as necessary early in a startups life.

In the first phase of a startup, you don't need someone to build and manage a marketing team or even establish a strategic marketing plan to achieve corporate objectives. Early in a startup, you need one thing only, and that is growth.

Previously, Sean asked for marketers and that's why he got marketers. So this time, he decided to change what he asked for and the idea was born.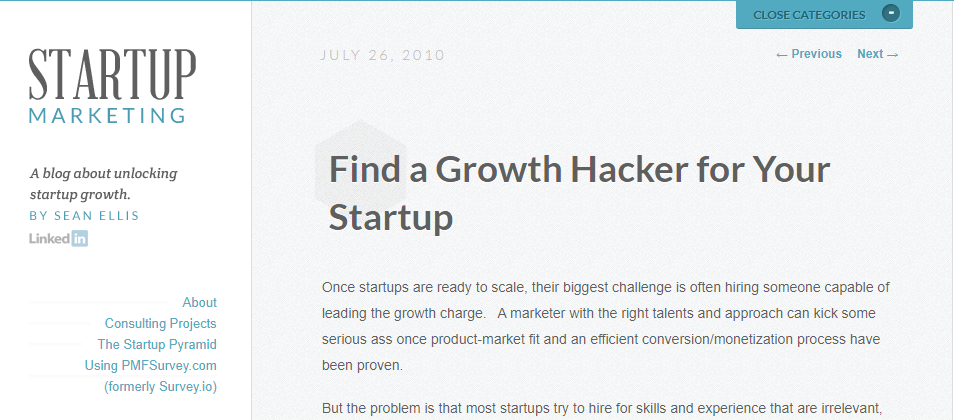 A growth hacker is not a replacement for a marketer, nor is he better than a marketer. They are just different. Using the definition from Sean's post, "a growth hacker is a person whose true north is growth."

Because in the days of early startups and small businesses, the main priority is growth. But those days where growth hacking used to be essential among startups is long gone, and now it is also applied among larger corporates.

Who is a Growth Hacker?
If they are not marketers, who are growth hackers?

The difference between growth hacking and traditional marketing lies in part that the marketing strategies focused on growth. Contrary to traditional marketing where marketers are focused on their own individual skillset.

Most importantly, growth hacking is more of a team effort than an individual. They can even be made up of marketers, developers, engineers, and even product managers. Anyone who is involved in the product or service who is focused on building and engaging the user of the business can be counted as growth hackers.

Typically, growth hacking combines marketing, optimization, and developmental know-how that is important to pull off automated marketing on a small budget.

For example, automated notification emails, simple-sign up forms or sign-up driven homepages, and streamlining onboarding for new customers. This can't be done without the combined effort of a marketing team or a full-stack developed individual that has the skills to code, design and create persuasive copywriting.

Remember, the goal of growth hacking strategies is to acquire as many users or customers as possible while spending as little as possible, be it time or money.

A growth hacker is someone who is a quantifier. He or she is a person who knows the customer base by the numbers and knows how to measure everything by appropriate metrics. A growth hacker is also someone who experiments.

They don't play by the rulebook and they are often someone who uses creative, low-cost strategies to help businesses acquire and retain customers. Every action needs to be an analytical decision that is based on an informed marketing strategy that will build to a potential impact on scalable growth.
Successful Case Studies and Examples
One successful example of growth hacking would be the growth of Facebook monthly active users, that is despite Facebook's size and age, at 17 percent its user count is growing as fast or faster than any year since 2012;.

Most importantly, people aren't using it less either. In fact, 66 percent of Facebook's monthly users return each day now compared to 55 percent when it hit 1 billion. Though this was a whole company effort, Facebook has attributed the success to its growth team which was tasked to reach 1 billion or more monthly active users.

Another example is Airbnb Inc which recorded US$9.4 billion in total booking value in the first quarter, increasing 31% from the year-ago quarter, a key number that could help pull in investors as the home-sharing company plans its foray into the public market.

You might think growth hacking is somewhat similar to viral marketing, but unlike viral marketing which creates a hype, growth hacking is more about understanding the latent potential of software products to spread themselves and create long substantial growth.

The greatest and first growth hack strategy of all time, according to Adam Penenberg in his book "Viral Loop: From Facebook to Twitter; How Today's Smartest Businesses Grow Themselves" is… the iconic single line at the end of each email sent via Hotmail.

With this link redirecting to a registration page, Hotmail gained 12 million users in 18 months.

If you are a marketer or business owner, an important question then arises…

So How Do You Start Growth Hacking?

For each company, it's first about figuring out why you grow, which means analyzing how you did it all these years. Or maybe you can just start with who are your customers and looking for ways to make it happen with intention.

On the fundamentals of growth hacking, and to see how we can start growth hacking, many startups go to Dave McClure's pirate funnel as a recipe for growth.

A-A-A-R-R-R, the pirate says and it is important to have "Awareness, acquisition, activation, retention, revenue, and referral."

All these processes should have growth priorities, which means focusing on the best strategies and tactics related to growing the business, whether it is in terms of traffic, user acquisition of customer conversion.

Looking at this, the ideal growth hacker should be one that understands the customers and knows how to measure success.

Because after all, growth hacking is about experimentation and that is creating hypotheses surrounding innovative strategies and then analyzing or testing them to see if they are truly working. It's not just marketing strategies.

Implement this in the creation of your product to make sure it fulfills product-market fit and actually test to make sure people actually want it, and are willing to pay for it.

Gather data so you understand your key buyer personas and can target growth marketing tactics accordingly. Update your products at regular intervals and keep getting customer feedback — to keep on the right track.

Market your product to foster continued growth, and inform your strategies by split testing and using other conversion optimization techniques that are crucial for effective growth hacking.

Most importantly, they operate on provable ROI whereby using data to inform every decision you make and tracking the performance of a hack accurately, you can easily see which of your growth hacking strategies are performing as you'd expect and which aren't.

Obviously growth hacking didn't start with a vacuum, the growth of growth hacking and its mindset has come with a burst of digital marketing and the testbed of marketers.

Growth Hacking Strategies and Actions
Here are some tools and tactics a growth hacker can use and apply.

Viral Acquisition
Paid Acquisition
Sales Teams
Content Marketing
Email Marketing
Product Marketing
Social media content
Search Engine Optimization (SEO)
A/B testing and analytics
Most importantly, when you adopt these methods to gain exposure or grow your revenue and customer bases rapidly, remember to keep them as low-cost solutions and use the minimum amount of effort or budget.