Introduction to 'Viral'
Viral got its name from the way viruses spread. All of us know how quickly videos, images, and written content spread across the Internet.
Just to give you a rough idea, let's take video content as an example.
The average view of the top 10 fastest viral videos, 24 hours after the upload is 67.42 million.
However, I think the view in the first place is an outlier. It has a whopping 200 million views. In the second place, the video has only 74.6 million views, followed by 65.2 million views.

So, let's exclude the one in the first place and calculate the next ten. The average is now 51.31 million views.

Do you see the extent that virality can go? It can go up to 200 million views in just 24 hours.

Amazed, aren't you?
Let's see what other benefits are there to viral marketing
What Viral Marketing Can Do To Your Business?
i. Increase Website Traffic
When people find the content you shared on social media helpful, they will share it with their social circle.

With that, people will click on the link you shared or even check your website out. In short, the more viral your content goes, the more traffic you'll gain.

This is beneficial for all sorts of businesses, be it startups or established businesses. When you get these traffic, you'll start to see your page go up on the SERP.

ii. Evergreen content
If the content has gone viral before, it's safe to say that it's good content. And what are the perks of good content?

Good content tends to get shared again and again, even though it's been quite some time.
The content could be used as examples, references, and citations as well in the future (exactly what I did above, sharing Rings TV Store Prank). Honestly, would you be scared if it happened to you?
iii. Increase Backlinks
When your page, blog, or content goes viral, you'll continuously get shares, during that period of time perhaps even after that period. What does that mean?
It means you'll be getting loads of backlinks and backlinks are like a "vote of confidence" from one website to another.
Ultimately, it tells search engines that your website provides valuable and helpful content, and also an authoritative one.
Also, Google suggests that in order to have a Google-friendly site, you should provide visitors with high-quality content and ensure other sites links to yours.
So, in short, these backlinks will be able to help you rank better.
Now, before asking what you can do to go viral, you first need to understand the basics of why people share. So, let's get into it.
Why Do People Share?
The aim is to get everyone talking about the content. But, how exactly?

Understanding the minds of human beings makes the science behind virality clear. You have to understand why people share.

People share content for several reasons. Here are the top reasons, according to the New York Times Customer Insight Group.
I believe some of these reasons apply to us as well.

Another reason why people share is because of the emotions the content brings.

Now you know why people share, it's time to learn the best practices that will make people share.

How Your Content Can Go Viral?
i. Make It Simple
Most people do not have time to browse the Internet for the whole day. Typically, they spend around 2 hours a day in total on social media.

If your content is complicated and long, it will take the users some time to read your content before sharing. If they're busy, they may bookmark your content and then later forget about it.

On another hand, if your content is short and simple, people can quickly digest it and then share it right away if they like it. That's one reason why memes get viral so quickly and easily.
ii. Make It Relatable
Next, you have to be relatable. It's always about the person who consumes your content. So, put yourself in their shoes and think of the best way to present your content.
Also, another reason why you should think about the consumer is mainly that men, women, kids, and individuals with different interests appeal to different content.
So, if your content is not targeted and relatable, people will not share, making it extremely difficult to go viral.
iii. Make It Emotional
Making your content emotional is one of the sure ways of making your content relatable. It's because, in most cases, they have to be able to relate to the content, in order to feel an emotion.
All emotions have their place in viral content. They all trigger humans to perform certain actions.
SEOPressor has a blog post on the Science of Emotion: 4 Keys to Effective Social Media Marketing and here's the key takeaway:
Positive "Happy" Content Gets Shared Faster And Wider than Sad Content
Awe Makes People Want To Share
Anger and Fear Are Powerful Emotions, So Trigger Them Wisely
Evoking Sadness Can Make An Impact When Done In The Right Way
Do read more from them, if you'd like to know how to trigger these emotions correctly.
iv. Post At The Right Time
Posting your content at the right time is also the key to success. Here's why.
If you post when your audiences are sleeping, by the time they are awake, your post would be moved below already because of new posts.
Your post will not get the visibility it deserves. If posted at the right time, where people are active, your post may just spread like wildfire.
So, consider the time your target audiences are most active and the platform they use as well.
If you're unsure, you may refer to the science behind the best and worst time to post on social media, compiled by SEOPressor.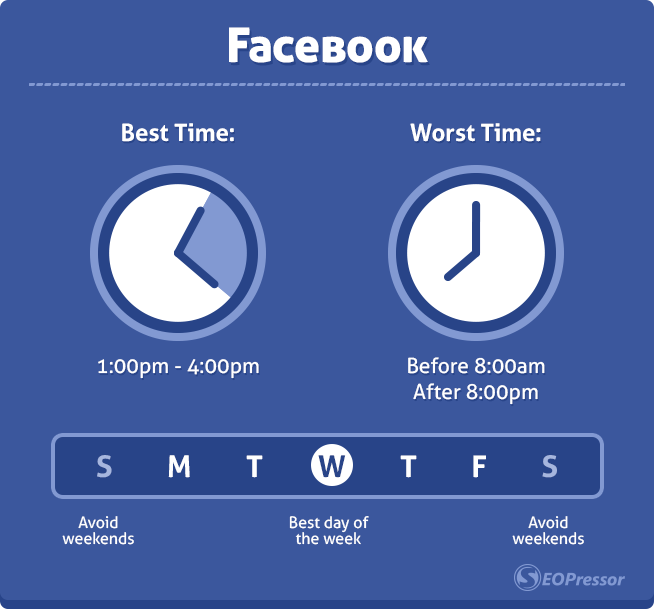 Conclusion
We've come to the end of this blog post. These are the factors that will likely help you achieve virality.
Remember, it's always about the ones who consume, so take into consideration who your target audience really is, their emotions, active time period, and the platform they used.
Good luck with implementing them. Let's hear from you, have you have any success with virality? Share with us in the comment sections below. I'd love to check them out.